Shopping Cart
Your Cart is Empty
There was an error with PayPal
Click here to try again
Thank you for your business!
You should be receiving an order confirmation from Paypal shortly.
Exit Shopping Cart
52 Ancestors 52 Weeks - 2018
| | |
| --- | --- |
| Posted on January 15, 2018 at 8:00 AM | |
Week 1 52 Ancestors 52 Weeks: Start
The Start of My Family History Addiction
By Nicole Hicks 
I was bitten by the family history bug in 1997. My uncle, the late Lovant Hicks III would talk endlessly about family history and shared the research he and his brother were conducting. He was extremely proud of his Hicks and Odom roots from to small counties in South Carolina. He and his brother, the late Josephus Hicks were actually my 1st cousins 1X removed, but I affectionately consider and remember them as my uncles, Uncle Junior and Uncle Joe.
I had been aware of their research, but as a teenager in the mid-1980s, I wasn't very interested of course.  I was in high school the first time he showed me some of his research.  I would look through the family history book he created to see there were hundreds of names.  I would look to see who I knew, who was named Nicole (there are 11 of us) or who had a birthday in October, like mine.  I would look to see who was born in Washington DC or in Barnwell or Bamberg County, South Carolina. I grew up around many of the people named in that book.  I remember them fondly and I am close to many of them today.  I was fortunate to know both of my parents and all four of my grandparents even though I was only close to three of them. I knew three of my maternal great-grandparents and some of their siblings. Not very many people can say that. And naturally I knew many, many first, second, and third cousins. Many of these people were around my entire life, so what more could I possibly learn about my family history?  I thought there was nothing else I could learn or needed to know about my family history. I was never so wrong!
Over time, I became fascinated with all of the people who shared my last name and who shared my heritage. Then I became intrigued with where they came from, where they migrated to, and finally I wanted to know their stories.  During his illness, I would visit with Uncle Junior and we would talk about family history and he would tell me family stories, but he had not written anything down.  I would ask questions about various family members to help keep his mind off being sick.  Our talks seemed to give him renewed energy. However; the one story I remember best was the one I became part of and the end result is one of my proudest genealogical accomplishments. 
My 2nd great uncle, Jacob Hicks was born on 22 Jun 1891 the area once called George's Creek in Barnwell County, SC. The community of George's Creek no longer exist and a new county was created in 1897 and that area is now called Denmark which is in Bamberg County.  He was the 4th child and the 2nd born son of Govan Hicks and Ellen Tyler Hicks and my great grandfather Lovant Hicks I was his older brother. In 1917 he was working as a cook at the town's only lodging establishment, the Shamrock Hotel. My Uncle Junior remembers Uncle Jake and knew that he served in World War I. He was the only family member at the time to have traveled outside of the continental United States. He had been married twice, widowed twice, and had one son from his first marriage. His son Thomas also preceded him in death in 1941. When Uncle Jake died in 1969 his nephews and nieces took responsibility for his funeral arrangements. The family was unable to purchase a headstone for his grave and told the funeral director that he was a war veteran, but the Department of Veteran's Affairs (VA) rejected the application to have a military headstone place on his grave. The VA said that they had no record of his military service. He was buried in the Blackville Colored Cemetery without any military honors or a headstone. Uncle Junior had tried a few times to contact the VA to find his military service records, but they were unable to locate a service record for a Jacob Hicks from Blackville, SC for service in the US Military during the first World War. My Uncle Junior was very frustrated by this.  It was certainly a mystery as to why Uncle Jake was not recognized for his service to his country. This is when my mission began!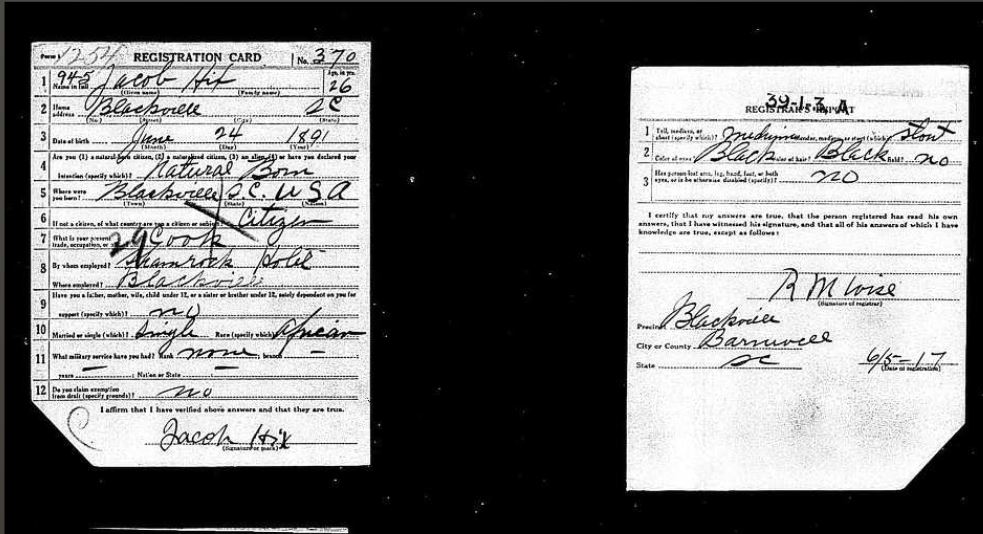 On one of my visits, the subject of Uncle Jake came up again.  Uncle Junior asked me if I had done any research at the National Archives in Washington, DC.  I told him, "No". I wasn't even sure where it was! He told me that the Archives housed military records and that he had not been able to find anything on Uncle Jake's military service when he visited. He wanted me to go downtown to see if I could find anything. At this point, he was gravely ill and I wanted to do something to help resolve this mystery and something to help keep his mind off his illness. I could tell how important it was to prove that Uncle Jake was indeed a veteran, so I agreed.

 

My first trip to the National Archives was a little overwhelming! I went on a hot Saturday morning and when I arrived there was a line around the building!  Apparently, a genealogy society had planned a bus trip to Washington, DC that weekend. My first thought was that I wouldn't be able to get in to do any research. The Rotunda, which displays the Bill of Rights and the US Constitution was still under renovation so I couldn't go and view those historic documents while I waited.  Still, I was excited to be there and really admired the architecture, the artwork, and vaulted ceiling. After a one-hour wait, I was finally assigned one of the 102 microfilm machines in this enormous and cold research room.

 

Once I was seated at my microfilm machine and I had absolutely no clue as what I was supposed to do. I started working at about 10:45 am that morning, after one of the librarians at the Archives suggested that I review the Federal Census records. Back then the Census records were not online. I had to do "old school" genealogy research using a microfilm machine. After about two mind-numbing and eye-burning hours of going through microfilm I had only located Uncle Jake in the 1900 and 1930 census records. As my time at the Archives was winding down, my frustration level was gearing up. I wanted to leave there successful! I wanted to leave there with something I could take back to my uncle that would help us solve this mystery of Uncle Jake's military service. At about 2:45 p.m. I was tired, hungry, and panicked. The Archives was closing at 4 p.m. and I had found nothing significant about my 2nd great Uncle. Again, I approached the front desk and the friendly librarian who had been helping me since my arrival. I explained what I was trying to find and that is when she told me about the Soundex Indexing System.




The Soundex Indexing System is how the Census records are organized. I was scanning the Census looking for surnames to be in simple alphabetical order and found it all very confusing.  This was the reason I wasn't finding anything. The Soundex code has one letter and three numbers.  The code is created based on the way the surname sounds rather than the way it is spelled.  For example, the Soundex code for my surname, Hicks is H-200.  

 

I moved onto combing the World War Draft Registrations as the librarian suggested and I began to think I would never find the key piece of information that I was looking for.  For my entire life I had only known of one way of spelling my surname HICKS! But then I learned there was more than one way to spell almost any surname. This was my introduction to spelling variations in genealogy research. On that fateful day I learned that my surname could also be spelled HEX, HEXT, HECHTS HICK, HICKES, and finally HIX! 

 

It was about 3:50 pm and the 2nd call announcing that the research room was closing had been made. When I found it, I screamed!  Scared the crap out of the two people on either side of me.  I went to find the librarian who had been assisting me and have her come look at my discovery. I was beaming with a sense of pride and accomplishment.  Uncle Jake's military record was listed under the name Jacob HIX!  His draft registration card was completed on June 5, 1917. I was ecstatic! Although cell phones were not allowed in the main research room, I DID NOT CARE, I pulled mine out to call Uncle Junior to let him know that I had located the information we needed to submit and request for a military headstone for Uncle Jake.  He was beyond pleased!  My full-blown addiction to genealogy started with that very event!

 

In his weakened condition and accompanied by my Uncle Joe, they went to the VA Offices to complete the application. The application was expediated and approved only one month after submission. The headstone for Jacob Hicks was place on his grave in the Blackville Colored Cemetery in Blackville, SC in September 1998, my Uncle Junior died on October 18, 1998. He knew that the headstone had been placed, but he never had the opportunity to see it for himself, or maybe he has, is grave is only 20 feet away from Uncle Jake's, facing each other in the same cemetery.  Before his passing, my Uncle Junior asked me to help my Uncle Joe to maintain our family's history.  After this experience, how could I refuse?  When my Uncle Joe became ill in 2014, he made the same request of me that Uncle Junior had made 16 years earlier.  Again, I could not refuse and I continue to honor their memory and dedication to preserving our family's lineage.

 

I am so grateful to both Mr. Lovant Hicks, III and Josephus Hicks for introducing me to my heritage.  I am grateful and honored by their trust in me to maintain our legacy and share it with future generations. They peeked my interest and motivated me to begin researching my maternal line. And if not for Uncle Joe continuing to encourage me, I probably would have quit before I realized how much fun, interesting, and important family history can really be!

 

Little did I know that a trip to the National Archives in Washington DC would turn me into a full-blown genealogy addict. I am hooked!  I have been addicted for 20 years and I do not need to be cured!  I want to help others learn about their history and tell their family's stories! I am purusing a professional certification in genealogy and started a family history and genealogical services business. Check us out at KinFolksFamilyHistory.com, hopefully our stories will inspire you to discover yours.

 

Categories: 52 Ancestors in 52 Weeks Challlenge

0

/